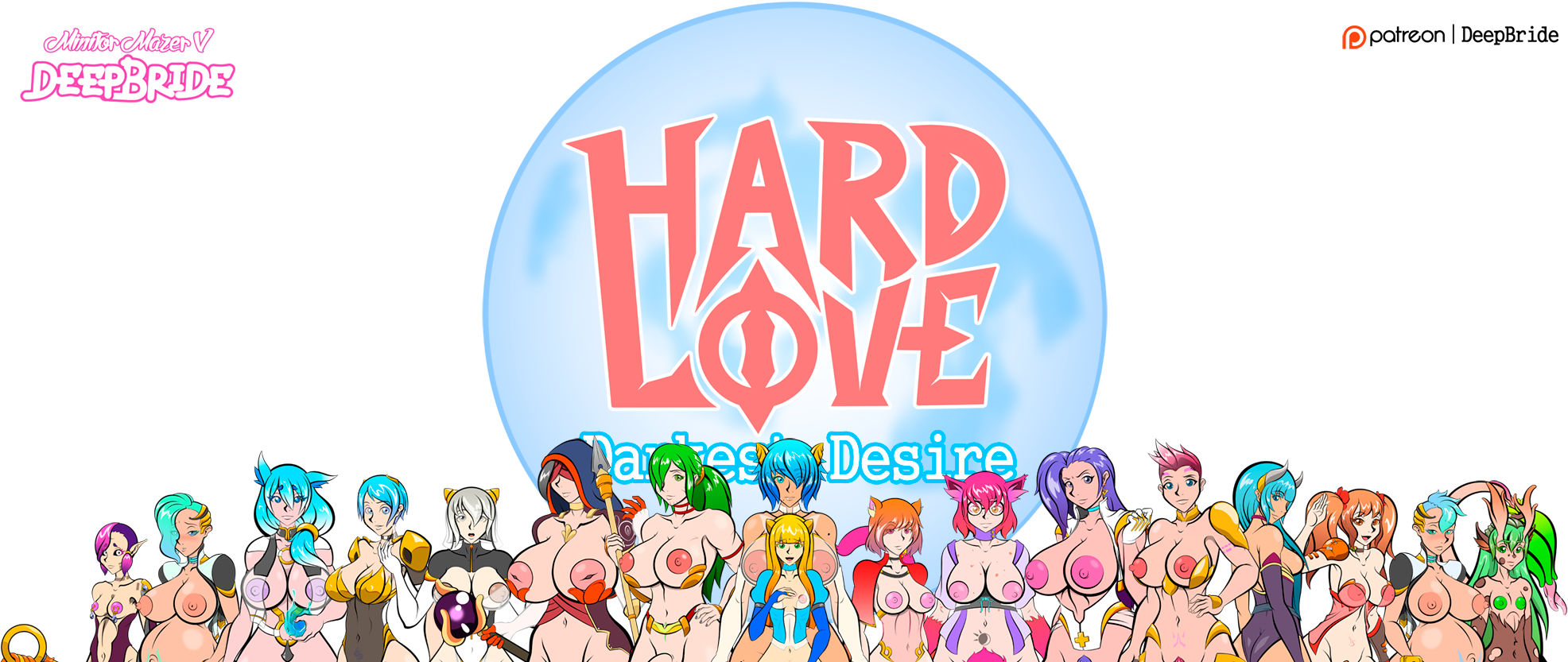 Hard Love - Darkest Desire - Apha
Update 010 & Multi Language
---
The Steam version has many advantages:
The game is downloaded without any compression.
It has the "Proton" tool that allows you to run the game on Linux and Mac.
It can be updated automatically.
Patches to fix bugs size kbs.
The downside of the Itch version is that every time I fix bugs you have to re-download the whole game.
Part one:
First of all, I'd like to thank all the Patreons who make this game possible. I invite everyone who enjoys the game and who can support it, to join me, so that I can continue to bring better content.
It has been a year and a half full of work, and there are still many sketches and ideas that have not yet been added to the game. Here are a few sketches. (Don't worry there are no spoilers.)
Some of these illustrations can already be seen in the game, I finished them somewhere around September 2020. The only problem has been that since that time, till today, I continue to program everything within the game. This are some of the disadvantages of not having a work team and doing everything myself. But I think the Steam timer proves me right. More than 1400 hours.
I have also included additional languages thanks to the fans. The new languages are Italian, Portuguese, Turkish, Russian, and Polish. Who need a break, right?
Short Summary:
There are more than 2,400 Lines of Dialogue. (x6 Languages, Spanish, English, Italian, Portuguese, Turkish, Russian and Polish.)
There are 5 Main Missions and 4 Secondary Missions. (70 lines of text. X6)
40 Items with their description and illustrations have been created.
20 Scenes with illustrations have been created. (With variations in expressions and hair there are a total of 456 images.)
24 Characters with illustrations have been created. (With variations there are 2,855 images.)
The Missing Content:
The door at the Citadel and the Ork army behind the door.
The Art of Margott, Aby, Amy and Venus has been upgraded.
The CGI of the Ork Queen upgraded with Princess Roxana.
The event gallery is currently available only in Spanish and English. (It works in the other languages too, it only shows the texts in English.)
The variation of the final scene with Amber.
The scene in the Magic Academy after finding the "Magic Lamp".
The combat system, Items and Puzzles will be renewed for the next update, perhaps the animations will be made with more chibi characters.
The dialogues in Russian and Portuguese for the update.
Voice acting for the update.
The save file of version 008 is incompatible due to a bug.
The save file of version 009 can be somewhat unstable or strange things can happen, due to the optimization in the code.
New Content:
Changed the translator to the English version by Yoshino. (Info: Part Two.)
Added a new mission for Trina with new cutscenes and dialogues.
Added a new mission for Melinda with new cutscenes and dialogues.
Added a new mission for Amber with new cutscenes and dialogues.
New scenes have been added to the Citadel for Princess Roxana and Teacher Veronica, alongside the Citadel map to navigate and interact.
5 mini events have added.
2 new books were added within the game.
Patreons credits added from 2020 to May 30, 2021.
Added some new NPCs with some simple dialogues plus some new interactive elements with World Lore.
Icons of the Items within the inventory have been changed.
The Events Gallery was added. (Here you can repeat the sex scenes within the game as much as you want.)
Visual aids have been added to help you find hidden and interactive objects.
Save screen has been added from Day 3.
Fixed the Patreon chests.
The code was optimized and many bugs were fixed.
New Maps were created:
Entrance of the Magic Academy and its interior.
The Wet Memories map and the Wet House. (Gallery of Events)
The Ancient Ruins.
The cave of ????.
Part Two:
Well as everyone knows it has not been an easy year due to the pandemic, unfortunately this affected Planets29 so it had to be replaced by Yoshino. Don't worry, Planets29 is still alive, but personally he needs to recover from everything he went through. Thank goodness Trina is fine. But the one who did not succeed was Henkei Usagi, a person with great talent who was going to be in charge of the animations.
For those who do not know me, I did not study art, programming or 3D design, passion is what motivates me to learn and improve. I started learning 3D with Blender in 2012, here is a walking animation that I did at the time.
It is not very good, and it is that at the time, to animate it only showed to me at 6 frames per second. It is difficult to work in such conditions on a good animation. Because of this, and the work, I left it, but now with the technology of the Nvidia RTX 3090 card and the Unreal Engine 5 they already allow me to dream of animations or 3D games again. Of course, when there are video cards, which thanks to the miners are scarce or are very expensive for me to pay.
My goal is to achieve an anime or cartoon style for the models, with the quality of Guilty Gear Strive or Dragon Ball Fighters Z. Of course, this would be in the future and with the more advanced game, since there is a lot of content to finish. But if you like the Futanari and Trap genre, with your support I believe that I will achieve my goals and be able to provide you with better content.
Thank you very much for your attention, I have spent many hours debugging the game and checking that it has no errors, the only thing I would like to ask you for is that you will help me promote the game by recommending it to friends, on pages, forums, Discord, Reddit, etc.
I hope you like this new update and have a beautiful day.
Files
Hard Love - Darkest Desire Alpha-010e [WIN][Android].rar
872 MB
Jul 04, 2021
Hard Love - Darkest Desire Alpha-010e [MAC].rar
892 MB
Jul 04, 2021
Hard Love Darkest Desire [SAVE][ENG].rar
48 kB
Jun 25, 2021
Hard Love Darkest Desire [SAVE][SPA].rar
81 kB
Jun 25, 2021
Get Hard Love - Darkest Desire - Apha
Comments
Log in with itch.io to leave a comment.
How do I download for Androi
А где найти эту "волшебную лампу"?
The number of traps in The Ancient Ruins is exaggerated, and it can be said that it may turn the fun in a game into tension because of the place and the large number of traps
Hehe. It is not to cross it without the "Magic Lamp".
I know that, but it seems that you did not understand what I was referring to are two points. The first is that the lamp you would not think of having without having any prior knowledge of your need or any hint or instruction.
As for the second point, the number of traps gives the idea that the whole stage will be just traps with some dependence on some luck
Yes, I think I put too many, in a future review I will remove some. Although you cannot interact with objects in the dark, leave 2 chests that you can open without light.
I want you and your developing team to be able to profit off of this game. However, I don't have a bank account other than CHIME. How can I contribute? Because I played a previous version of Darkest Desire and man it was exhilarating I want to help you all to finish the game as well as you can. I am refusing to play your game until it is actually finished, but I know that means you require funds and I am definitely willing to help. Thanks my dudes haha.
I am not sure how I can help you guys be promoted other than going on dating sites that connect gamers lmao. So please email me and I will respond accordingly. Otherwise, I'm so freakin excited to see how you and your team (if you have one) do.
I really appreciate it, but remove your email from your message, people may come and try to deceive you or impersonate me. At the beginning I had placed the Paypal donation button, but since nobody used it I removed it, here I leave it again.

https://www.paypal.com/donate?hosted_button_id=2MHBG7YGWGXEJ
wish the grind was a little less, and a walkthrough would be nice also. But i heavily appreciate the effort! especially for futa on femboy! the story has me very invested
I'm glad you're enjoying the story and I'm also aware of the grid system, but that needs to be reworked along with the entire combat system later on.
Wow a lot of work went in there. Please don't overwork yourself!
That being said, I have a question, does the game have Frottage scenes?
I don't know if I count the scene before Amber fucks Nova, in bed when he strokes her balls with his dick, or the final scene of the update.